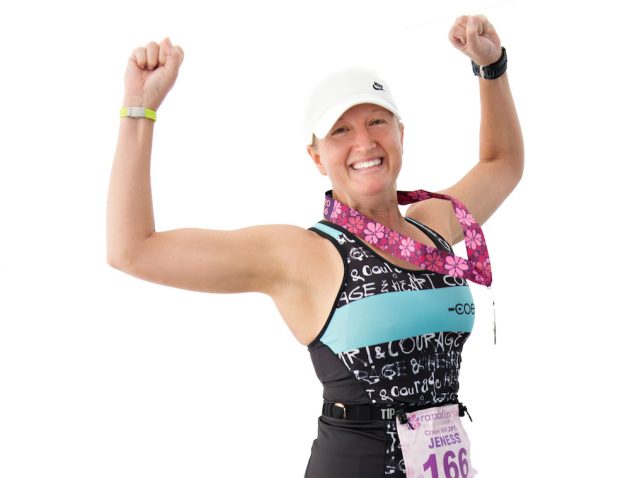 "It sounds cliche, but she was our rock before the cancer, through the cancer, and even now in spirit…that's strength like no other I've ever known."
After her mother, Connie Morgan (1951-2012), was diagnosed with ovarian cancer in 2008, Jeness "JJ" Campbell began running to relieve stress. With her mother in the GYN Oncology clinic at UNC, she noticed signs for the Foundation for Women's Cancer's inaugural half marathon.  It turned out that Paola Gehrig, her mother's physician, was doing it as her first half marathon too.
"I was motivated by training to do something that would support my Mom and other women with gynecologic cancer, and it gave my Mom an opportunity to support me," said Campbell.  "She was my biggest fan."
But, the stress relief wasn't immediate. It was something that came over time.
"Stress was affecting me more mentally than physically," added Campbell.  "Physical activity does not come naturally to me—it's something I have to work at all the time.  While there was pain associated with pushing to be faster or run longer distances, I started to realize how good I felt at each incremental improvement.  Those small accomplishments started to teach me that I could take control of my own feelings and not let the stress be in control.  The further and/or faster I went, the more self empowered I became." 
Campbell did most of her training on the American Tobacco Trail where she enjoyed being out in nature, seeing and waving to others on bikes or running or walking.  
"I would see plenty of people in obviously better shape than me," she said, "but just as many like me or pushing through despite apparent physical challenges.  That would inspire me more, as it would make my struggles seem so much smaller.  My Mom often said of difficult situations…it can always be worse.  She was right…she always found the good in everything no matter how bad.  I try to remember this and realize how lucky I am no matter how bad I may feel or the situation may be."
Campbell's first actual event in preparation for the half marathon was the Anna's Angels 10 miler in the RTP. Her Mom and grandmother were there, despite the pouring rain and Campbell's fear that she would likely be the last one to finish. With each finish, running became a bigger part of Campbell's life – so much so, that she used it to create "run-cations" for her family.
"We spent a week in Duck, NC, in November, 2010, when I decided the OBX Marathon would be my first marathon.  We then vacationed in Virginia Beach and Las Vegas for more marathoning" she said. "I think these vacations and events helped my Mom focus on something besides her disease.  She was a strong woman – never complained.  She never wanted to miss anything—that would have meant the cancer was winning and she was doing everything in her power to keep that from happening."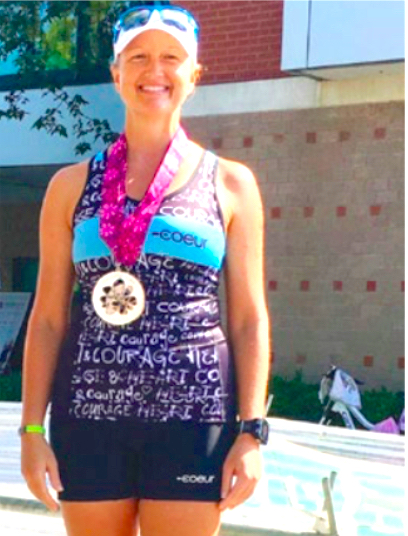 After doing a few marathons, Campbell noticed the Ramblin' Rose signs at the UNC Wellness Center and became intrigued since she knew how to ride a bike and grew up at the beach and loved the water. So, she bought a bike and began riding. She participated in a swim clinic to learn technique.  
"My Mom, as she always has and even as she was battling cancer, encouraged me and committed to being my cheering section," added Campbell. "Mom would always ask me if I'd done my training to help keep me on track.  If she was visiting, and I would need to go to the trail to run, she'd go with me.  Even if she could only sit in the car and read or rest while I ran, she would. Since she was in Virginia, she would call at least a few times a week.  Even though she was battling cancer, the conversations were always about my training or work or life.  She was easy for me to talk to, and she could understand things without me having to say them.  She had emotional strength that allowed her to step outside of her own challenges to support me and the rest of her family. It sounds cliché, but she was our rock before the cancer, through the cancer, and even now in spirit…that's strength like none I've ever known."
"I will never forget seeing my Mom at the last turn into transition at Ramblin' Rose Raleigh 2011, my first triathlon, ringing a cow bell and cheering as loud as she could," said Campbell.  "While she passed in 2012, her spirit still motivates me.  I've now finished more than 30 triathlons including five at the half ironman distance. I've also qualified and competed at USAT Age Group Nationals.  Even now, whenever a spectator is ringing a cow bell, it brings tears to my eyes, and I know that my Mom's spirit is helping them ring that bell for me."